Monday, October 29, 2018
Happy Monday, friends!
I love starting out the week with a blog post containing a fabulous new pattern! I had the privilege to test the
Fulton Sweater Blazer
, releasing today, by
Alina Design Co
.
Alina's patterns are the perfect classic wardrobe staples, and this one is, of course, no different! A sweater blazer is a must-have at the moment, and this one has a beautiful collar detail to set it apart.
It comes in two lengths, the shorter View A, which I've sewn here; and a knee length View B. It also comes with 2 sleeve lengths, 3/4 and long. The collar and front opening is finished with a facing, as well as the sleeves.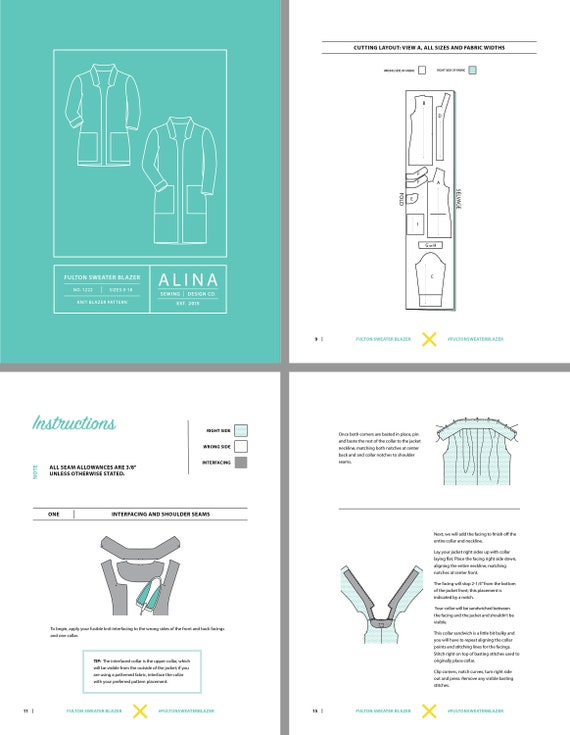 The roomy patch pockets in the front are of course a fave! It can hold your phone, keys, a sippy cup... All the things, lol. And plus, I just like having a place to put my hands when I'm wearing a cozy layer. 💚
The pattern is intended for sturdy, structured knits with no vertical stretch. I used a mid weight french terry from Joann's, and while it has no vertical stretch, it is a little less structured than intended. However, it works very well, and is a super comfy layering piece!
It's a little more casual than if I had used a more structured knit, but it still gives a polished look to an outfit that feels like I'm wearing a comfy sweatshirt! I love it paired with my white Union St Tee, and with a little tuck into some high-waisted jeans, I definitely feel put together, yet perfectly comfy for all the things I need to tackle in a day.
The collar was the only bit that was slightly tricky, but Alina has included all the tips, tricks, illustrations and instructions you need to be absolutely successful! There is also a sew-along coming to her blog that will be super helpful!
Otherwise, the sewing is as straightforward as sewing a t-shirt. Since my fabric was on the lighter side, I used my serger for construction and it was a quick sew!
The fit you see here is the final fit of the pattern, some ease in the hips was removed during testing, and my version reflects that. I also did a 1/2" swayback adjustment, which is individual to my body, but because of the center back seam, it was super easy!
I sewed a straight size 6, which my bust and hips fell into, and I LOVE it! I plan to make more, and wouldn't make any fit adjustments at the cutting stage.
I'm so excited to have this piece in my closet, it will be a fall, winter and spring staple for sure!